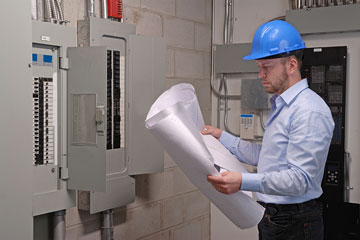 Electrical engineers develop, test, and supervise the manufacturing of electrical equipment including electric motors, machinery controls, lighting, radar, navigation systems, and more. Many electrical engineers design the electrical systems of aircraft and automobiles. Areas of specialization for electrical engineers include power systems engineering and electrical equipment manufacturing.

High school students interested in electrical engineering should have a strong science and math background with a view toward obtaining at least a bachelor's degree. In all 50 states and the District of Columbia, electrical engineers working with the public must be licensed via a two part exam. The first part of the exam, Fundamentals of Engineering, may be taken upon graduation from an accredited engineering program, while the second half, Principles of Practice and Engineering, may only be completed after four years of relevant work experience.

Electrical engineers should be analytical, detail oriented, and communicate well with others in order to successfully convey ideas in person and on paper. Electrical engineers usually begin their careers working under the supervision of experienced engineers and are assigned greater independence as they prove their competence. Eventually, they may advance to become technical specialists, supervise a team of engineers and technicians, or become electrical engineering managers.

Employment opportunities for electrical engineers are expected to grow slower than the national average due to international competition. Electrical engineers providing expertise and design services to manufacturers will have the best prospects. Visit the IEEE-USA website for more information about careers in electrical engineering.
Related Directory Pages
---
About Electrical Engineers